---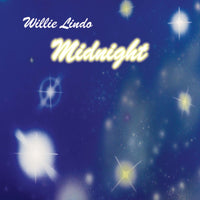 This is one of those tunes that's been on my wants list for years in the optimistic/naive hope that I would somehow stumble across a copy of an original in fantastic condition and at a reasonable price, which predictably has never happened so this reissue from the Sound Metaphors crew in Berlin is very welcome indeed.
Originally written by Barry White and released in 1974 as 'Midnight And You' this version surfaced a year later produced in Jamaica by Willie Lindo and released on the Wild Flower label. It also appeared on a 7" later in 1978 via UK label Black Wax and there are also a couple of discomix versions floating around on B-sides of other 12"s.
Here it's delivered on a nice and loud 12" with the original instrumental on the A-side and the dubbier alternative 'After Midnight' mix on the flip. The music itself has a magical quality that gets the proportions of reggae, dub and soul just right meaning it appeals to devotees of all these genres in equal measure but also has that cross genre uniqueness that secures its position as a timeless classic that you'll find yourself coming back to again and again.
Tracklist
A - Midnight
B - After Midnight