---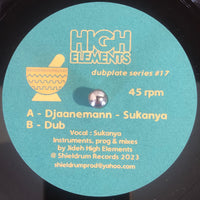 **Restock Alert** Something a bit special here....
Extremely limited dubplate of an absolutely magical one of a kind tune that sees Sukanya deliver a spellbinding vocal performance in Hindi over a heavy as like dubwise production from Jideh High Elements. And the result is a musical match made in dubwise heaven....
Leaves me thinking why isn't there more Hindi dub around... the only other examples I can think of are Mad Professor's Indian Dub Song and Alpha & Omega's Shuruaat Aur Ant, both of which are also total winners. Something about the juxtaposition of those soaring romantic vocals and that heavy bass that just sends the whole production on this into the stratosphere.
These are heavyweight 7" polyvinyl dubplates produced in extremely small quantities which unfortunately means the price is high but when you listen to the music it's difficult not to feel it's worth every penny....
Tracklist
A: Djaanemann
B: Dub