---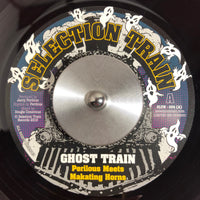 Like everyone else I was totally gutted to hear of the sad news just before Christmas that Terry Hall had passed away. He was someone who's both musical output and social and political stance I admired greatly.
Here one of The Specials best known and and most celebrated songs - Ghost Town - gets a rugged digi dub make over from Perilious with a bit of help Makating Horns and Dougie Conscious.
Taking on a classic like Ghost Town can be  a risky business but I think this really works (especially on the dub on the flip) resulting in a nice bass heavy sound system twist that still remains respectful to the original. A fitting tribute to the late great Mr Hall I think.
Tracklist
A: Ghost Town
B: Duppy Town