---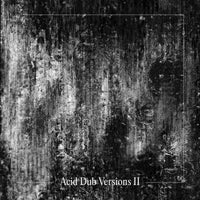 It's landed! The very welcome latest instalment in Om Unit's ever evolving and ever fruitful exploration into the happy musical marriage between the acid 303 squiggle and the dub bassline has just arrived and I'm pleased to report it's another blinder.

Here he invites an enviable line up of the finest cutting edge electronic producers to, in true dub fashion, reversion tracks selected from the first two volumes of his excellent Acid Dub Studies LPs.

Helpfully delivered in an uncluttered and lovely sounding fashion across two slabs of vinyl each of the ten tracks included here represent a different vision for the acid dub concept as re-imagined by each of the selected remixers. The result is a beautifully diverse album of dub informed electronic music that ranges from dancefloor bangers to full on horizontal ambience.

Special mention should also be given to the welcome appearance of Tubby's 80's digi killer Tempo rhythm that forms the basis of three tracks here, not only creating a direct link back to the original dub master himself but also continuing the long standing tradition in reggae and dub to recycle and reinterpret rhythms. In this case we have an 80's rhythm from Tubby that's been reinterpreted in an acid dub style by Om Unit 40 years later which has then, in turn, gone on to be transformed once again on this record into something new and wondrous by three new producers. Which is kind of amazing when you think about it.
Tracklisting
1. Camo (Yushh Remix)
2. Camo (Hodge Remix)
3. Strange Brew (Amy Kisnorbo Remix)
4. Acid Tempo (Double O Dub Agent Remix)
5. Acid Tempo (Tapes Remix)
6. Bristol Theme (V.I.V.E.K Remix feat. Dego Rankin)
7. Valium Tempo (Versa's BS5 Mix)
8. Ghosts (Frenk Dublin Remix)
9. Tapped (Surgeon's Girl Remix)
10. Electroacidspringwater (Nadia Struiwigh Remix)