---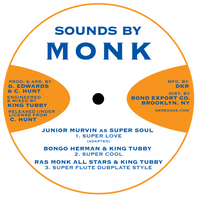 ***Back In Stock*** Unmissable 12" EP containing six incredible versions of Curtis Mayfield's classic 'Give Me Your Love'.
Junior Murvin takes control of the A-side with his characteristic falsetto perfectly bridging the worlds of soul and reggae and then on the flip I-Roy picks up the mic up to deliver an inspired deejay cut.
In addition to the two vocal cuts you also get the dubs that appeared on the original 45's as well as two previously unreleased dubplate mixes, all delivered direct from the mixing desk of the dub master himself King Tubby. Tip top selection!
Tacklist
A1 Super Soul – Super Love
A2 Bongo Herman & King Tubby – Super Cool
A3 Ras Monk All Stars & King Tubby – Super Flute (Dubplate Style)
B1 Super Roy – Flying High
B2 Ras Monk All Stars & King Tubby – Super Cool (Pt. 2)
B3 Ras Monk All Stars & King Tubby – Super Cool (Pt. 3 Dubplate Style)