---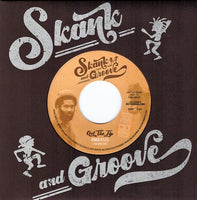 Outstanding reissue 7" from the Skank & Groove label that's home to two Lee Perry produced scorchers dating back to the early 70s.
It's actually the track on the flip side that first caught my attention. It's a tune I've heard many times before but never quite got round to working out what it was, though I always suspected it was an Upsetter production. Even by Scratch's standard this one is pretty bonkers. I-Roy chatting about an intergalactic space flight over the top of some amazingly funky and properly tripped out musical backing. To be filed next to other psychedelic-cosmic-synth reggae masterpieces such as The Vulcans 'Star Trek'.
In all this excitement it's easy to forget that the A-side is also home to an unmissable slice of pre-Black Ark reggae goodness in the shape of Junior Byles' "Got The Tip" featuring none other than The Wailers on backing vocals.
All round a pretty essential 7" I think!
Tracklist
A Junior Byles & The Upsetters – Got The Tip
B I-Roy – Space Flight