---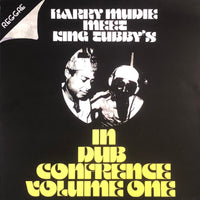 Very excited to be able to offer some copies of this one for sale which is definitely up there as one of my favourite records of all time (and consequently was the subject of a piece I did a little while back for Test Pressing).
It's an intriguing and slightly anomalous gem in Tubby's extensive discography in that the rhythms he's working with here are supplied by Harry Mudie and as a result are not the normal heavy roots sound that we're used to him using as source material for his dubs. Instead the rhythms have a much lighter and funkier feel to them that takes influences from soul, jazz and rock & roll with even strings making an appearance on a couple of the tracks which is a rare feature in the world of reggae and dub. The result is a real one of a kind album that shows another side to Tubby's dubwise expertise and as a result it holds a special place in my heart and record collection.

The copies I have here appear to have the same sleeve as the reissue that surfaced in the UK a few years back however rather than having the white centre labels of that release this one has full colour labels bearing the original Moodisc logo design and the records also have a different runout etching. Overall a great opportunity to grab an amazing record that doesn't come up very often. 

Tracklisting:
A1 Full Dose Of Dub
A2 Madhouse Dub
A3 Dub For The Dread
A4 Dub With A Difference
A5 Caught You Dubing
B1 Roman Dub
B2 Dub Confrence
B3 Heavy Duty Dub
B4 Strip-Tease Dub
B5 String Dub In Rema