---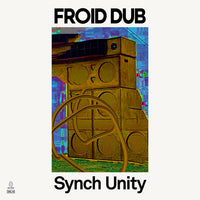 The very welcome return of France's Froid Dub with their third LP which continues their sonic exploration into the icy waters that lie between dub, synth and cold wave.

This is another tour de force packed with forward thinking dubwise sounds ranging from the seismic low end frequencies of the aptly named opener "Bass" to the dark atmospheric dub-hop of "Tear Gas Mix 2" to the epic cold wave inspired slo mo stepper "Percussion Dub." 100% quality from start to finish. Another incredibly strong record that further perfects and refines the distinctive sound they've developed over the past few years.

I also have copies of their two previous equally amazing LP's in case you missed them the first time round. "Deep Blue Bass" from earlier this year and 2021's "An Iceberg Crusing The Jamaican Coastline".
Tracklist
A1. Bass
A2. Treasure
A3. Tear Gas Mix 2
B1. Stay
B2. Dub It Naturally
B3. Percussion Dub