---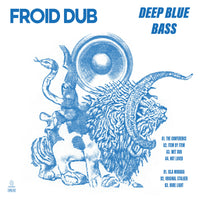 Very excited this one's landed!

Following in the foot steps of their first two killer records (the first one of which I also have back in stock) we're treated to another treasure trove of unmissable cold wave dubwise delights from Froid Dub that join the dots between icy synths and sun drenched digi dub. 
From the cavernous post-punk of 'Wet Dub' to the dance floor friendly disco dub of 'Not Loved' to the heart breaking synth melodies of 'Isla Morada' to King Tubby meets Bladerunner 'Original Stalker' this is another unmissable release that once again intrigues and delights in equal measure. Another top record.
Tracklist
A1. The Conference
A2. Item by Item
A3. Wet Dub
A4. Not loved
B1. Isla Morada
B2. Original stalker
B3. Rude light