---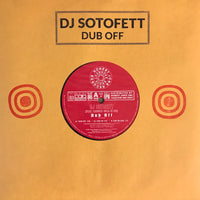 More Scandinavian dubwise genius this time from DJ Sotofett via Honest Jon's.
A definite contender for one of my favourite 10"s of recent years. Super rugged and slightly mystical digi dub vibes that get progressively deeper and more psychedelic as you work your way through the three different mixes. 
Comes in a lovely letter press sleeve too.
Tracklist
A1 Dub Off
A2 Dub On
B1 Dub On Dub