---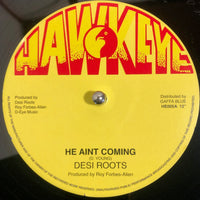 Amazing intergalactic space age reggae here from Desi Roots that originally dates back to the early 80s.
Really love the distinctive sound on this one that combines bass heavy roots production with the euphoric cosmic synths of disco. It's a combo that's a real winner yet sadly isn't heard as often as it should.
There's also some 24 carat dubwise gold hidden on the flip in the shape of 'Jeremiah Special' from none other than living legend Scientist who expertly takes the whole thing back into the depths of his mixing desk and returns with a dubbed out masterpiece that manages to be both incredibly funky and supremely heavy. 
Tracklist
A1 He Aint Coming
A2 He Aint Coming (Version)
B Jeremiah Special