---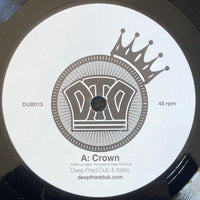 Great collaboration here between Italiks and Deep Fried Dub on Dubmission Records.
Deep, deep vibes on the vocal cut that delivers an interesting twist on the classic roots sound that's both melancholy yet soulful.
You also really have to check the dub on this one which is a bit of a masterpiece combining some supremely heavy bass with haunting melodica and snippets of the vocal. A proper deep journey into dub...
Tracklist
A: Crown
B: Crown Dub