---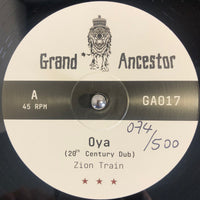 Grand Ancestor uncover two previously unreleased dubplate killers here from Zion Train that date back to the 90s.
As was common with many dub experimentalists from that era these tracks bring in influences from the broader dance and electronic music spectrum that was sweeping the nation at the time and apply them to the ever evolving UK dub sound with some spectacular results.
Up top is the rolling breakbeat bleep techno meets UK steppers of 'Oya' and then flip it over for the bumping bass heavy dub-house of 'Change.' Both proper bangers that are still sounding super fresh 30 years on and providing the perfect special ingredient to bring a bit of extra dubwise bassweight to a 4/4 dancefloor set or to add some extra energy and spice to a dub and steppers selection.
Tracklist
A Oya (20th Century Dub)
B Shango (20th Century Dub)