---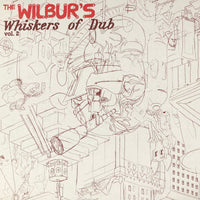 Remember that amazing Whiskers Of Dub 7" that I had copies of last year that disappeared in the blink of an eye?
Well some good news.... the guys behind that record (Ivan Dubious and friends) are back with a brand new six track mini-LP packed with more mindblowingly brilliant live instrumental dub jams.
This record picks up where the other one left off delivering another unmissable dose of their unique instrumental dub sound that brings in influences from post-punk, funk and a heady dose of psychedelia. Melodica, sax, synth, bongos and woodblocks all make an appearance creating a sonic whirlwind of dubwise delights.
This is one's a bit of a Dubwise Vinyl exclusive as I don't think anyone else has copies of this is the UK (or anywhere else for that matter at the moment).
Grab 'em while you can!
Tracklist
A1 no ransom
A2 necessity
A3 liberation
B1 Vilma's delight
B2 jailhouse swing
B3 kidnapping