---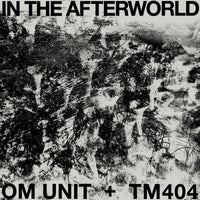 An inspired collaboration here between Om Unit and TM404 that further explores the intersection between acid and dub, a fascinating cross-border territory that both artists have intrepidly adventured into before on their previous Acid Dub Studies and Acidub releases respectively.
In terms of the acid/dub balance this one maybe weighs a little more towards the acid but the influence of dub is never far away whether directly on  tracks like the slo-mo lysergic stepper 'Thursday' or more indirectly in terms of an overall production aesthetic such as on the weightless inverted dub techno of 'Refracted'.
The other big addition here compared to previous releases is the selective addition of breakbeats and, boy oh boy, does it work a treat. Opening track 'Motorway Acid' is a perfect living example of the magic that happens when you add this third element into the acid dub equation. Acid + dub + breakbeat = banger.
It actually reminds me a bit of some of the early Warp records (in particular that amazing Speedy J track off the first Artificial Intelligence album) as well as some of the more ravey moments from pre-Warp Aphex Twin found on Selected Ambient Works. In short it's amazing.
Another very classy record to add to the growing compendium of acid dub triumphs from these two.
Tracklisiting:
A1 Motorway Acid
A2 Microdose Mondays
A3 London Stock
B1 Meanwhile... In The Smoking Area
B2 Thursday
B3 Refracted
B4 Praha