---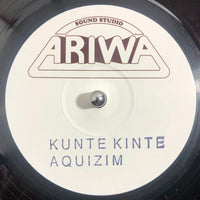 **Back In Stock**Aquizim's take on one of the deadliest dubplates of all time - the mighty Kunte Kinte - and with Mad Professor at the controls you know you're in good hands here and he 100% delivers.
A-side is home to a super tight instrumental cut that captures some of the characteristic soulful lovers rock swagger that was getting Ariwa noticed at the time and then on the flip is a heavyweight super tough dub that provides the perfect opportunity for the Prof to flex his dubwise muscles at the mixing desk. Two outstanding alternative takes on a classic.
White label stamped 10"s that look identical to the original 1981 release but (I think) are actually a repress for 2023.
Tracklist
A Kunte Kinte
B Kunte Version