---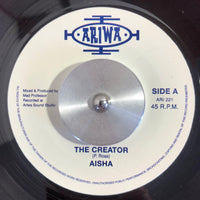 **Back In Stock**Yes, yes, yes! One of my all time favourite  tunes paired with one of my all time favourite dubs pressed up on my favourite all time format - the mighty 7". It doesn't get much better than this!
Pure Ariwa magic here from Mad Professor. Aisha's majestic devotional vocal cut The Creator on the A-side and then on the flip its corresponding and insanely good dub Ffwd Into Dub as sampled by The Orb on their epic Blue Room.
I don't think I could ever tire of either of these two tunes and would happily listen to them on a loop into eternity.
Tracklisting:
A: Aisha - The Creator
B: Mad Professor - Ffwd Into Dub