---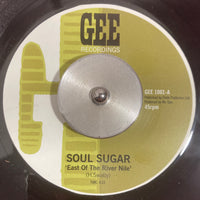 Another great reversion of a classic reggae intrumental here from Soul Sugar.
This time it's Augustus Pablos ever greeen 'East Of The River Nile' that gets the Soul Sugar treatment, once again upping the funk and dub factor by delivering a storming super tight live instrumental version complete with some killer drum breaks.
You also really have to check the dub on this one - it's seriously wild! Tubby would have been proud...
Unplayed original stock copies of the 2013 release.
Tracklist
A East Of The River Nile
B River Nile (Version)