---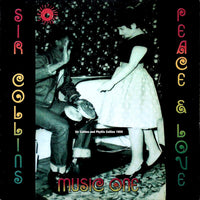 Fantastic collection of tracks from legendary Dalston based producer and soundman Sir 'Clancy' Collins that was originally released in very limited numbers in 1977.
The B-side is home to some absolutely incredible dubs which, unsurprisingly, make it a record I come back to again and again. I featured the deep and supremely funky 'Collins Blood' in the mix I put together for Stan Ray and in addition to that you also get two more insanely good dubs in the shape of 'Collins Blood' and 'Collins Ghost'. You'd be hard pushed to find a tougher trio of than these three...
Also worth checking the vocal cuts of Big Dread's "Fire" and The Brixton Youths "Black Star." Both amazing.
Unplayed deadstock copies of the 2009 reissue LP.
Tracklist
A1 Leona Collins– I Love You
A2 Big Dread– Everybodies Music
A3 Big Dread– Fire
A4 The Brixton Youths– Rockers Music
A5 The Brixton Youths– Black Star
B1 Collins Music Wheelers– Collins Blood
B2 Collins Music Wheelers– Collins Sweat
B3 Collins Music Wheelers– Collins Ghost
B4 Leona Collins– Carnal Minds