---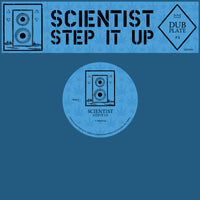 Mysticisms bring in the big guns for number 4 in their dubplate series! When it comes to dub there are few more legendary figures than the mighty Scientist who alongside his former mentor King Tubby is responsible for many of the greatest dubs of all time.
The cut selected here dates back to that golden era of the late 70's when he was working at Tubby's studio and results from one of the many epic sessions held with Bunny 'Striker' Lee and his house band The Aggrovators alongside vocalist Barry Brown. It has all the hallmarks of the exemplary dubs that emerged from Tubby's mixing desk at that time - driving drums, weighty bass, plenty of echo and reverb and not to forget that all important high pass filter. In short, it's an absolute classic.
Then on the flip we're treated to an inspired remix from DJN4 & AKI AKI who take the dub to the rave, keeping the spacious trippiness of the original but giving it a welcome dancefloor focus for 2023 delivering a proper modern day steppers delight for all the dancers out there.
Tracklist
A: Step It Up
B: Step It Up - DJN4 & AKI AKI Digi Dance MixX