---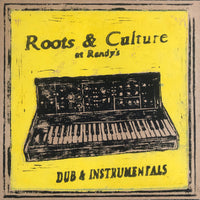 A really lovely record from Only Roots that collects together twelve unmissable dubs and instrumentals recorded at the Chin's legendary Randy's Studio housed in a beautiful limited edition hand made linocut sleeve.
As you can imagine this is absolutely top notch 70's roots and dub of the highest order with versions of classics such as Gregory Isaacs' "Never Be Ungrateful", Donovan Carless "Be Thankful" and Hortense Ellis' "Woman Of The Ghetto." I'm guessing Errol Thompson would have been at the controls for quite a few of these dubs which gives you an idea of the kind of quality we're dealing with here.
The sleeves themselves come in a variety of colours which will be selected at random so they may not look exactly like the one in the picture but don't worry they all look amazing! As each one is hand made they're all unique so no two are the same which is a really nice old school way of doing things and makes each record feel very special.
Tracklist
A1 Mr Isaacs
A2 History Book Pt. 2
A3 Travel
A4 Go Back
A5 Ghetto
A6 Thankful
B1 Rise & Shine
B2 Get Away
B3 My People
B4 We Gat Mad
B5 Don One Dub
B6 Where Wolf