---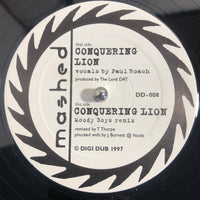 Very happy to be a able to offer some original unplayed stock copies of fantastic 12" on the increasingly in demand Digi Dub label that date back to 1997.

As is a characteristic feature of many releases from the label it successfully merges dub influences into the relatively new dance genres that were emerging during the 90's, in this case garage and breakbeat.

It's also a good example of how sometimes doing your own thing and going against the grain can play in your favour as it's a record that has aged surprisingly well and still sounds refreshingly different.

Also has the added bonus of a Moody Boys remix on the flip from Tony Thorpe who does indeed go a bit moody, slowing things down to deliver a deadly slo mo breakbeat stepper.

Overall a very nifty secret weapon 12" perfect for the more adventurous dance floors..
Unplayed stock copies of the 1997 release.

Tracklisting
A Conquering Lion
B Conquering Lion (Moody Boys Remix)