---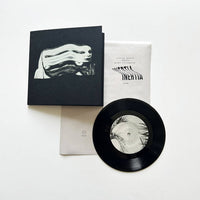 Something a bit special here. A stunningly beautiful 7" (both musically and aesthetically) resulting from a collaboration between post-punk icon Little Annie and Florida based producer Richard Vergez a.k.a. Night Foundation.
The music occupies a magical nocturnal realm where post-punk meets dark ambient electronics and the dub on the flip is stunning, sounding like the lost soundtrack to a David Lynch film.
Beautifully presented in a bespoke silkscreened 7" envelope jacket with a newsprint insert.
A Inertia
B Inertia (dub)