---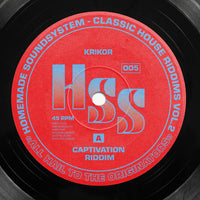 Very excited about this one. The much anticipated sequel to Krikor's excellent Classic House Riddims 7" (which featured in volume 3 of my Magnificent Sevens mixes) is has landed!
Two more murderous speaker wrecking dancehall-dub hybrids packed with enough bass to do some serious structural damage.
Just check that drop on "Liberation Riddim" - massive!
Tracklist
A. Captivation Riddim
B. Liberation Riddim