---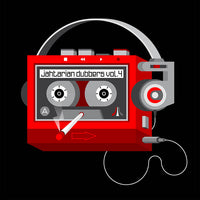 The fourth and final installment in Jahtari's impeccable Jahtarain Dubbers series delivering another all killer no filler selection of digi dub bass bin rattlers.
Really nice variety of styles on this one too including not just the earth shattering 8-Bit dub Jahtari is best known for but also some really nice vocal cuts that showcase their own unique take on roots, dancehall and even a touch of lovers rock. Tip top selection!
Unplayed deadstock copies.
Tracklist
A1 Monkey Marc – Danger Earth
A2 Pupajim – Nobody Can Stop We (Dub At The Pub Dubplate)
A3 EarlyW~Rm – The Dub Deal
A4 7ft Soundsystem Feat Mentor Irie – Shut Ya Mouth
A5 El Fata– Good Foundation
A6 Disrupt – Chrono Trigger
B1 Jah Screechy– Love We A Deal With
B2 Jahtari Riddim Force– Total Protonic Reversal
B3 Cha Cha– Black Eyes Stranger
B4 Diggory Kenrick– Stranger Flutes
B5 Rootah– Dancing Chords
B6 Mungo's Hifi Feat Shanti D– Know Your Roots