---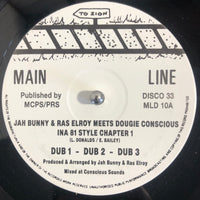 **Back In Stock** The predecessor to the amazing Ina 81 Style Chapters 3 & 4 this another essential and under the radar record that contains two excellent dubs, one per side each delivered in 3 mixes from increasing depths of the echo chamber.
Chapter One on the A-side is real gem. A beautifully melodic synth driven dub that works a treat as an undercover secret weapon for the more adventurous leftfield dance floors.
Then flip it over for the more jazz influenced Chapter Two which comes across like a long forgotten dubbed out 90's trip hop classic, which is always a good thing in my book.
Another essential under the radar record from Main Line.
Unplayed stock copies of the 2009 release.
Tracklisting
A1 Ina 81 Style Chapter 1 Dub 1
A2 Ina 81 Style Chapter 1 Dub 2
A3 Ina 81 Style Chapter 1 Dub 3
AA1 Ina 81 Style Chapter 2 Dub 1
AA2 Ina 81 Style Chapter 2 Dub 2
AA3 Ina 81 Style Chapter 2 Dub 3