---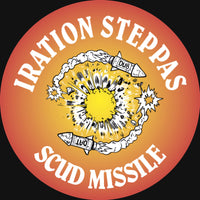 Great to see this one back out on vinyl. The very first release from the mighty Iration Steppas originally dating back to 1994 and a big personal favourite. Still sounding way ahead of its time.
The perfect example of their progressive 'Dub Inna Year 3000 Style' bringing in influences from other areas of electronic music to push the UK dub/steppers sound in exhilarating new directions. 
You get the remastered original version here alongside two previously unreleased dubplate mixes. Essential.
Tracklist
A1 Scud Missile
A2 Scud Missile (Patriot Antidot Dubplate Mix)
B1 Scud Missile (Mass Destruction Mix)