---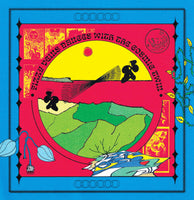 I've been a big fan of Fizzy Veins music for a while now. His Kool Down 7" was one fo the very first records I featured on Dubwise Vinyl and he's also been putting out some pretty amazing records recently as part of experimental outfit Montel Palmer.
I'm therefore very happy and excited to be able to offer this record which is his first solo LP on the always excellent South Of North label and it's a real beauty. Combining a dubwise production aesthetic with all manner of other influences from the worlds of soul, funk and psychedelia it's a refreshingly diverse yet cohesive set of tracks that show the benefits of what can be achieved by ripping up the rule book to create your own distinctive and singular sound.  
Fizzy Veins was also one of the first people to ask me to do a guest mix which was featured on his excellent Dublab show back in 2019 so to mark the occasion I've dug the MP3 and put it up on SoundCloud for your listening pleasure.
Tracklist
A1 Secret Tripping
A2 Drop The Hood
A3 Silver Medal
A4 pool_loop
B1 Favourite Winter Jacket
B2 Darts Champ
B3 Moonlight Tascam
B4 Hey Where Did You Go