---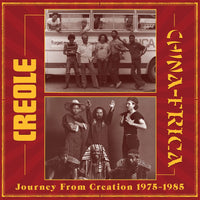 Brilliant and comprehensive double vinyl compendium of Wayne Chin's highly influential Creole and Chinafrica projects which contains pretty much their entire discography across both vocal and dub versions (with one record dedicated to each).
Particular note should be given to tracks 'Jah Creation' and 'Beware' which proved so popular on UK sound systems they went on to spawn their own much loved dubplate specials ('Shaka The Great' and the legendary 'Kunta Kinte' respectively).
Beautifully presented in gatefold format containing insightful liner notes and some great photos. All round top package from DKR.
Tracklist
A1 Jah Creation
A2 Tourism
A3 I Don't Know
A4 Moving Away
A5 Skylarking
A6 Beware
B1 I Am A Rootsman
B2 You Made Me Happy
B4 Come Let Me Love Ya
B5 Destruction
B6 I Wonder
C1 Jah Creation Version
C2 Tourism Version
C3 I Don't Know Version
C4 Moving Away Version
C5 Skylarking Version
C6 Beware Version
D1 Old Hope Road
D2 You Made Me Happy Version
D3 Troubled World Version
D4 Come Let Me Love Ya Version
D5 Mx Missile Dub
D6 Wondering Dub