---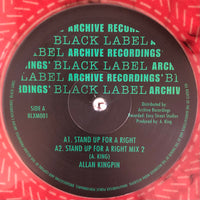 Deadly late 80's UK roots killer from Allan Kingpin who delivers an amazing vocal performance that manages to be both soulful yet also tinged with just the right level of defiance and danger. 
As well as the original vocal cut you also get two previously unreleased additional versions on this 12" both of which are total knockouts - a stripped back previously dubplate only alternate vocal cut and then a properly tripped out heavyweight dub on the flip courtesy of Aquizim. No wonder this one always disappears super quick...
A welcome repress here for 2023 from Archive Recordings delivered on smokey grey coloured vinyl.
Tracklist
A1 Allan Kingpin - Stand Up For A Right
A2 Allan Kingpin – Stand Up For A Right - Mix 2
B Aquizim – Stand Up For A Right - Version